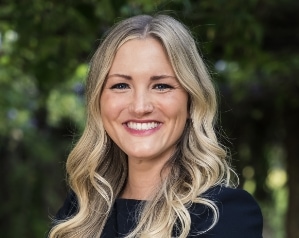 Amy Guisinger Edgecomb, PharmD, MPH
Adjunct Faculty
Dr. Amy Guisinger Edgecomb works as an associate director in the U.S. Value, Evidence, and Outcomes group at GlaxoSmithKline. Dr. Edgecomb's primary focus is on the company's respiratory portfolio, where she is responsible for supporting health outcomes and economic evidence across different stages of drug development to demonstrate value to payers, regulators, health care providers and patients.
Prior to joining GSK, Dr. Edgecomb worked as a health economics and market access consultant at AESARA, and as an associate engineer for a public utility company in Florida.
Dr. Edgecomb has conducted academic and clinical research in the areas of neurology, general medicine, infectious diseases, and breast oncology at both UNC and Duke University. During her MPH program, she supported the development of an evidence report outlining the benefits and harms of screening for vitamin-D deficiency in the primary care setting for the U.S. Preventive Services Task Force and for the Agency for Healthcare Research and Quality.
Dr. Edgecomb has held a variety of local and national leadership roles, including serving as a volunteer on the medical board for A Cure In Sight, a rare disease patient advocacy group, member of the American Society of Health-System Pharmacists clinical practice advisory group, certified volunteer for the NC Department of Insurance State Medicare Patrol and many others.
Dr. Edgecomb's passion is to use her technical and leadership skills to find trends in health and economic data to help shift focus into a value-based health care system that improves patient care.
Dr. Edgecomb holds both Doctor of Pharmacy and Master of Public Health degrees from the University of North Carolina at Chapel Hill, and a Bachelor of Science in Chemical Engineering from the University of Florida.
She is also a state registered pharmacist, holding licenses in both Florida and North Carolina, and currently practicing part time in Florida.
Amy teaches SPHG 701 – Leading from the Inside-Out.