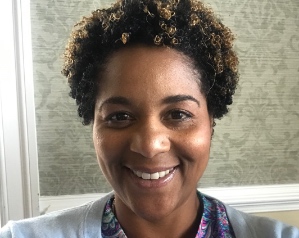 Diane R. Johnson, MPH
Adjunct Faculty
Diane R. Johnson has almost 25 years of experience as an award-winning strategic corporate communications and public relations professional.
She has a proven record at the senior executive level in cause and social marketing, education and literacy, employee relations, brand market strategy, community outreach and advocacy, social justice issues, corporate and internal communications, and stakeholder partnership and target audience engagement.
A principal at L.J. Enterprises, Inc., she has a client base that includes federal and local governmental entities and national nonprofit organizations. She is the former vice president and chief communications and marketing officer at Providence Health System (an Ascension hospital). In this role, she led the development and implementation of a comprehensive marketing and communications strategy in accordance with the Ascension brand and the vision, values and philosophy of a Catholic mission-based hospital. A key achievement was rebranding the hospital's emergency care center for Pope Francis in 2015.
As a vice president of health affairs in the public and corporate affairs practice at the communications consultancy Ketchum in Washington, D.C., she led communications initiatives for multiple clients, including Afaxys Pharmaceuticals, American College of Cardiology, CDC Foundation, Janssen Pharmaceuticals (a division of Johnson & Johnson), The Hertz Corporation and Nestle Health Science. She was a key senior leader on a number of United States federal government accounts, including the Office of the National Coordinator for Health Information Technology and various departments within the National Institutes of Health (NIH).
Johnson also served as the director of social marketing with the Vaccine Research Center at the NIH National Institute of Allergy and Infectious Diseases. She has gained extensive international health experience through managing million-dollar, PEPFAR-funded, in-country initiatives with a national nonprofit organization.
Johnson currently serves as an adjunct faculty member at the UNC Gillings School, where she teaches Conceptualizing Public Health Solutions. She also teaches at the Georgetown University School of Nursing & Health Studies and the School of Continuing Studies. She regularly serves as a grant review chair with the HIV/AIDS, Hepatitis, STD and TB Administration of the District of Columbia's Department of Health.
Johnson completed undergraduate studies at Brown University and earned a Master of Public Health at the University of North Carolina-Chapel Hill. She is a former W.K. Kellogg fellow through UNC's Kenan-Flagler Business School.