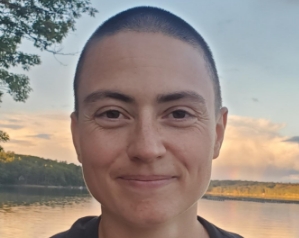 Hanna Jardel, MS
Adjunct Faculty
Hanna Jardel, MS, is a PhD candidate in the epidemiology department at the UNC Gillings School of Global Public Health.
Jardel's work focuses primarily on environmental and occupational exposures. They are particularly interested in the joint effects of chemical exposures and exacerbation of existing social disparities — in the context of disasters — on long-term and chronic condition etiology and management.
Their work has spanned a wide range of topics, including diabetes as related to oil spill cleanup exposures, preterm birth as related to ambient air pollutants and diet characteristics, essential worker definitions derived from cell phone mobility data, and wildfire smoke exposure as related to prolonged respiratory medication use among infants.
Jardel received a BS in Biochemistry and Molecular Biology as well as a BA in Cultural Anthropology from the University of Maryland, Baltimore County (UMBC) in 2015. They earned an MS in Emergency Health Services from UMBC in 2017.