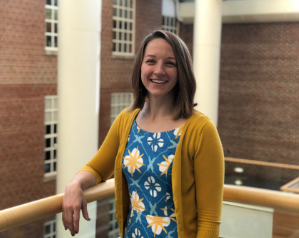 Kathryn Sayre, MPH, RD
Registered Dietitian, Department of Nutrition
Kate Sayre is a registered dietitian who focuses her expertise on continuing education and motivational interviewing counseling skills.
She works within the Practice and Continuing Education Division, which is chaired by Amanda Holliday. Sayre helped the department become an accredited provider with the Commission on Dietetic Registration and maintains these credentials. She also plans various continuing education opportunities, teaches motivational interviewing to students in the Master of Public Health/Registered Dietician program and works on a variety of other projects.
Visit the UNC Gillings website to learn more about Kathryn Sayre's honors and awards, research interests, key publications and more.