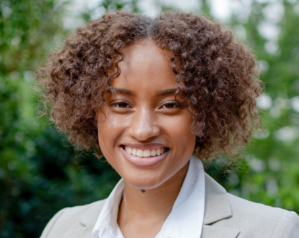 Makala Carrington: Exploring the Intersection of Health and Culture
Public health runs in the family for Makala Carrington. Her mother, a public health professional, and father, a 20-year United States Army veteran, raised her to value service.
Since graduating with a Bachelor of Science in Public Health, Carrington has worked with some of the most influential public health organizations in the world. Throughout her career, she's focused on increasing equity and access — not just for the populations she serves but within the public health profession, too. Earning a Master of Public Health (MPH) degree was a clear next step.
"I decided to get my MPH because I knew that I wanted a lifelong career in public health," she says. "I have always been passionate about mentorship, sharing knowledge, diversifying the public health workforce and building up the next generation of leaders."
Strengthening Minority Research and Voices
Carrington began her career at the Centers for Disease Control and Prevention (CDC), where she interned through the Public Health Leadership Fellowship Program. Her work with the CDC Prevention Research Centers network introduced her to public health at the government level, including project management, technical assistance and funding announcements.
Then, Carrington joined the Johns Hopkins University School of Nursing as a research assistant with the Kennedy Krieger Institute of Maternal Child Health Careers/Research Initiatives for Student Enhancement Undergraduate Program. She contributed to the weWomen study, exploring intimate partner violence and homicide among immigrant and refugee women.
"I have always been passionate about mentorship, sharing knowledge, diversifying the public health workforce and building up the next generation of leaders. "
Today, Carrington is a graduate research assistant at the UNC Gillings School of Global Public Health. She captures, curates and analyzes data sets to learn more about productivity, trends and faculty research expertise within UNC Gillings. Upon graduation, she plans to continue research based on the premise that health is not just the absence of disease — it's the maximum attainable state of a person's emotional, intellectual, physical, social, spiritual and vocational well-being.
"The intersection of health and culture have significant impacts on health outcomes and access to care in immigrant, refugee, Black and Native Americans populations," she explains.
Carrington isn't just an experienced researcher. She's also a talented entrepreneur and the founder of Brains and Beauty, a mentorship organization dedicated to building, growing and leading the next generation of diverse change agents.
Brains and Beauty started under the umbrella of the University of North Carolina at Charlotte as a mentoring program for minority women. "I wanted to leave my mark at UNC-Charlotte as a woman who others look up to and learn from," she says. "My experiences could inspire the next generation, strengthen women and unite cultures to strive for achievement and success — no matter what obstacles they may face."
Translating Goals Into Action
When it came time to choose an MPH program, Carrington considered a number of factors, including research opportunities, concentration options, diversity, funding and community.
"I knew nothing about the Gillings School other than its reputation, but rankings weren't a priority for me," she says. "I wanted a holistic experience that would grant me foundational tools and networks for success."
Carrington's personal and professional experiences drew her to the MPH@UNC Leadership concentration.
"This concentration really spoke to my foundational values and lifelong career goals. I don't want to simply learn or relearn information; I want to know how to apply it when I am in a leadership role or position of influence."
"I am absolutely in love with this program."
Her faculty mentor has helped her focus her aspirations while in the program.
"She has been instrumental in my success, and she's given me such insightful career advice," Carrington says.
A natural leader, Carrington is passionate about giving back to the Gillings School Community, in part by serving as an MPH@UNC student ambassador.
"I decided to become an ambassador because I am absolutely in love with this program," she says. "I consistently share upcoming events and student opportunities with my classmates, and I thoroughly enjoyed the immersion earlier this year."
New Opportunities at Every Turn
By earning her MPH online, Carrington doesn't have to contend with inconvenient class times or a long commute. The extra time makes a difference in her life.
"I really wanted to deeply engage in my program and also balance my freedom," she explains.
"I couldn't imagine a better program at a more convenient time. It has been one of the best decisions I've ever made."
The decision has paid off in more ways than one, as the COVID-19 pandemic hasn't affected the quality of her education.
"This program is the reflection of my passion for mentorship, creativity, education, community and well-being. Even before COVID-19, I vouched for it," says Carrington. "I couldn't imagine a better program at a more convenient time. It has been one of the best decisions I've ever made."