How to Enjoy the Mediterranean Diet Using Foods Near You
The Mediterranean diet has been linked to health benefits including longevity, improved heart health and reduced risk of chronic conditions. The dietary pattern doesn't always match local flavors and food preferences, but researchers at the University of North Carolina are working to change that.
UNC faculty developed a spin on the Mediterranean diet known as the Med-South diet — a program that follows the patterns of the Mediterranean diet and incorporates a Southern twist. The diet is part of a lifestyle program that is undergoing clinical trials to determine whether it can be effective for long-term weight loss and understand how health centers can effectively deliver the program to patients in need.
"We're working on both ends: on the clinical side, and then on the public health side," said Dr. Carmen Samuel-Hodge, an associate professor in the UNC Gillings School of Global Public Health and one of the Med-South program's primary investigators.
The Med-South diet can serve as a model for combining healthier eating habits with local foods and flavor profiles, no matter where you live.
The Mediterranean Diet Explained
As its name suggests, the Mediterranean diet is a broad style of eating healthy that incorporates foods found in countries bordering the Mediterranean Sea. While flavor profiles within the dietary pattern vary, many of these cuisines incorporate plenty of fresh vegetables and produce, whole grains, healthy fats and limited sugars.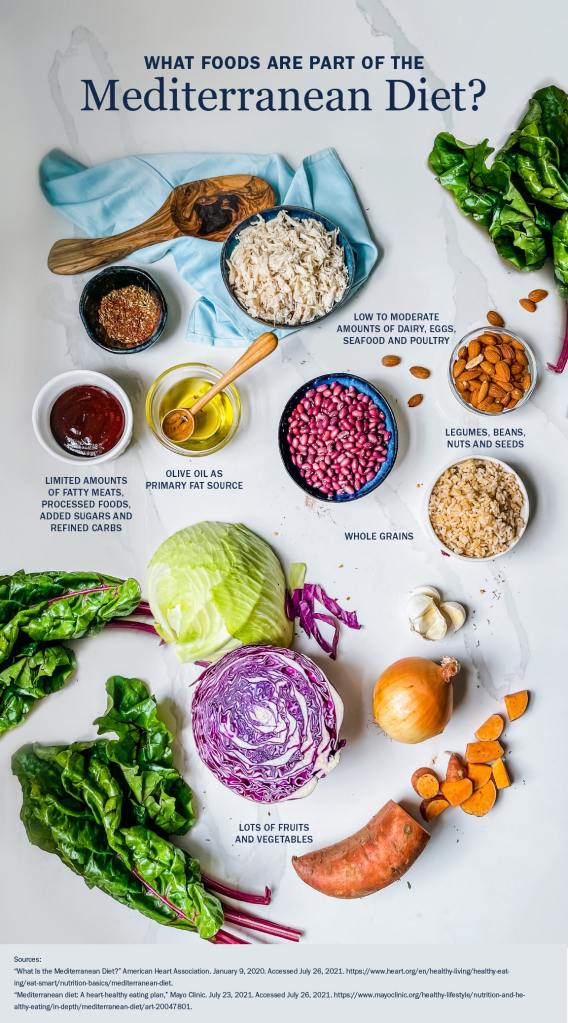 What Are the Mediterranean Diet's Health Benefits?
Studies have shown that following the Mediterranean diet reduces overall mortality and risk for chronic conditions, including:
Cancer
Type 2 diabetes
Heart disease
Neurodegenerative diseases
Adopting healthier eating habits, such as a Mediterranean diet pattern, is one of the ways people can reduce their risk for developing these chronic conditions.
"There are all of these benefits, and if you look at all the chronic conditions that really plague the U.S. population, diet is one of the risk factors that can be modified," Samuel-Hodge said.
The Med-South Diet, Explained
Developed by Dr. Alice Ammerman, Dr. Thomas Keyserling, Samuel-Hodge and other colleagues, the Med-South diet melds Mediterranean eating patterns with traditional dishes from the Southeastern United States. Think healthier hush puppies, entrees that are baked or cooked on a stovetop instead of deep-fried, and vegetables cooked in olive oil rather than lard.
The Med-South program has been well received by patients who have adopted it and has proven to effectively reduce blood pressure and improve short-term weight loss. Now, researchers are studying if the Med-South program can be used as a long-term weight-loss strategy, as well as learning how the program can be most effectively implemented through federally qualified health centers and local health departments.
Those leading the weight-loss trial are now recruiting from populations that are not typically represented in weight-loss studies, Samuel-Hodge said:
of participants are African-American
"The benefit to [these populations] of modest weight loss and adopting a Mediterranean dietary pattern is really great," Samuel-Hodge said.
Samuel-Hodge said she has noticed other benefits beyond weight loss and improved health from the lifestyle changes.
"One of the things we find with participants is … that they feel better," Samuel-Hodge said. "Once they start making these changes, they will say, 'I probably lost like one pound, but I don't care about that because I actually feel better.' That's a win."
How to Follow A Mediterranean Diet Pattern
Samuel-Hodge said it is most helpful for those who follow the Med-South program to focus on adding variety to what they already eat rather than eliminating foods.
"It's not saying, you can never have your barbecue or your ham — just don't eat it every day," she said. "Make sure you leave room for the things that are really going to make you healthier."
That can also mean modifying foods you already eat.
"Finding ways with foods that they're already familiar with but changing them just a little bit allows [individuals] to not feel deprived of a food," Samuel-Hodge said. "It's a common thing, but you're tweaking it a little bit to make it healthier."
Samuel-Hodge suggested these strategies to help people incorporate Mediterranean eating habits into their existing diets:
Increase vegetable intake
Roast your vegetables to improve flavor.
Eat vegetables with every meal, including breakfast.
Try slaws in addition to traditional green salads.
Add healthy fats
Cook with olive oil or other vegetable oils instead of other fats.
Eat nuts as a snack.
Enjoy fatty fish, such as salmon, mackerel, trout or sardines.
Meal-prep food in large batches
Plan meals in advance and eat prepped foods with multiple meals.
Bake large trays of mixed vegetables (non-starchy and starchy) to combine with other foods.
Cook large portions of whole grains in advance to use for sides.
Mediterranean Diet Recipes From the Med-South Cookbook
The recipes below are some fan favorites from the Med-South cookbook, DELISH Med-South Recipes (PDF, 4.2MB), from the UNC Center for Health Promotion and Disease Prevention.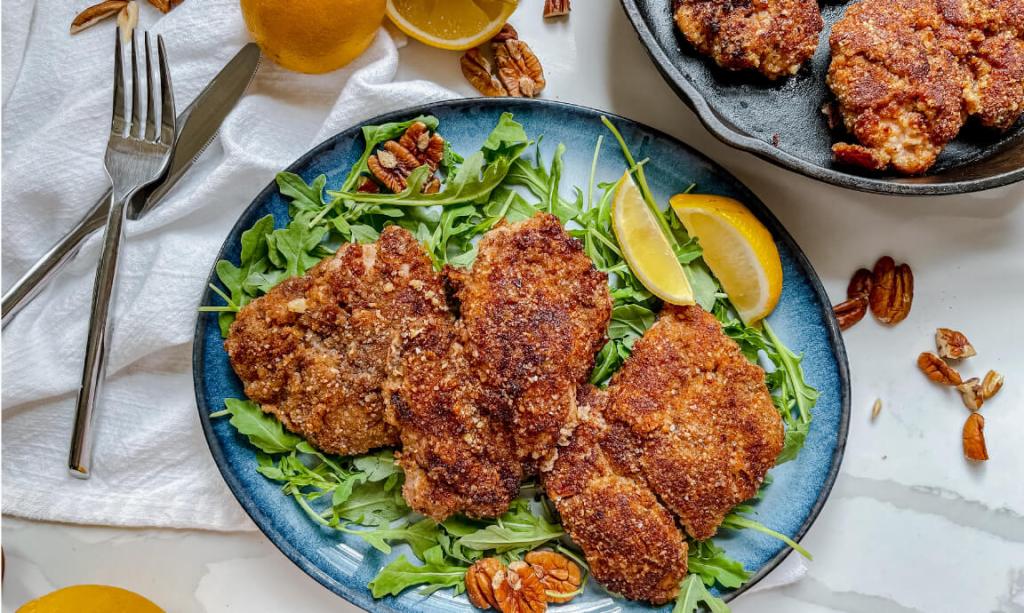 Serves 4; serving size: 1 chicken thigh
Ingredients:
4 skinless chicken thighs
4 ounces buttermilk
2 small eggs
½ cup whole wheat breadcrumbs
½ cup pecans
½ teaspoon steak seasoning
4 tablespoons extra virgin olive oil
Directions:
In a small bowl, mix buttermilk and eggs.
Place breadcrumbs, nuts and steak seasoning in a blender and grind to moderate-grain consistency.
Spread the crumb/nut powder in an 8-by-8-inch flat dish.
Soak each chicken thigh in the buttermilk-egg mix, then place in dish with crumbs/nuts and flip to coat both sides.
Heat the oil on medium heat in a medium-size frying pan. Once hot, add the chicken. Flip in 10 to 12 minutes. Total cooking time is 20 to 25 minutes or until crispy brown. If chicken is thick, or if using chicken breasts instead of thighs, cover the pan when frying.
Serve warm. Use a strainer to separate the crumbs from the oil and enjoy these, too.
Download a printable version of the Pecan Pan-Fried Chicken recipe (PDF, 239KB).
Heart-Healthy Hush Puppies
Serves 18; serving size: 2 hush puppies
Ingredients:
1 cup yellow cornmeal
1 cup yellow grits
½ cup unbleached white flour
½ cup whole-wheat flour
2 eggs
1 cup buttermilk
¾ teaspoon seasoned salt
½ teaspoon pepper
1 teaspoon baking powder
⅔ teaspoon baking soda
⅛ cup vegetable oil
⅓ cup nuts, finely chopped (pecans, almonds, walnuts or any mixture)
Oil for deep-frying (Corn, soybean or peanut oil recommended. Do not use lard
or solid fat.)
A mixture of roasted vegetables, finely chopped — about 1 to 1 ½ cups total (choose anything you like, but include onions)

Red or green bell peppers (or hot peppers if you dare!)
Eggplant
Sweet potatoes
Zucchini or yellow squash
Okra
Cabbage
Directions:
Begin heating the oil for deep-frying (medium to high heat) — about 1 ½ inch depth.
Mix all dry ingredients in a bowl.
Mix all wet ingredients in a separate bowl.
Combine wet and dry ingredients.
Add chopped nuts and vegetables.
Add more buttermilk if needed for the consistency of cornbread (very thick pancake batter).
Drop batter into the heated oil using a small spoon. The oil should bubble vigorously around the dough. Turn the puppies with a slotted spoon to brown them on all sides. It should take only 2 to 3 minutes to cook each one.
Remove from oil and drain on a paper towel. Enjoy!
Download a printable version of the Heart-Healthy Hush Puppies recipe (PDF, 255KB).
Serves 8; serving size: 1⁄2 cup
Ingredients:
1 ¾ pounds fresh okra
4 tablespoons olive oil
½ cup breadcrumbs
2 teaspoons garlic powder
¼ teaspoon pepper
¼ teaspoon salt
Directions:
Preheat oven to 450 degrees Fahrenheit.
Wash and drain okra.
Remove tips and stems and cut okra into ½-inch slices.
Coat the okra in the oil, seasonings and breadcrumbs. Mix thoroughly. Add more oil if the dry mixture is not sticking.
Spread in a single layer on a cookie sheet.
Bake until crisp — 30 to 40 minutes — stirring occasionally.
Download a printable version of the Oven-Fried Okra recipe (PDF, 210KB).
Heart-Healthy BBQ with Veggies and Rice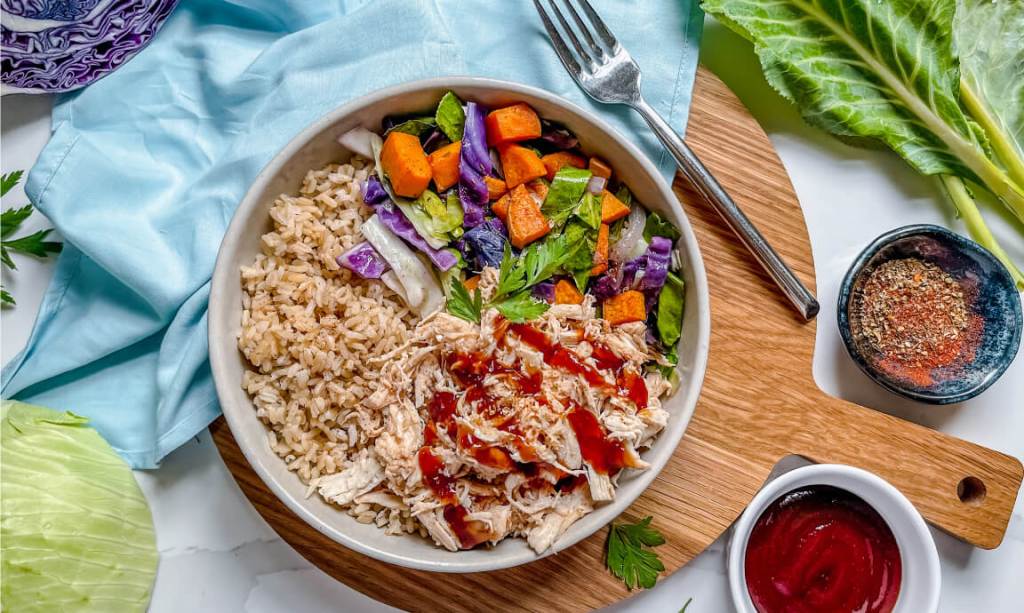 Serves 6; serving size: 2 cups
Ingredients
1 small onion
2 garlic cloves
3 tablespoons vegetable oil
½ large head of green cabbage (add some red cabbage for color)
5-6 large leaves of collards, kale or other dark green leafy vegetable
1 medium-to-large sweet potato
3 cups cooked brown rice (takes longer to cook than white rice, so allow time)
1 cup of shredded BBQ meat, cooked
1 teaspoon of your favorite herb seasoning (thyme, oregano, Italian mix, etc.)
Hot pepper to taste
Your favorite BBQ sauce to taste (look for sauces that have fewer than 6 grams of sugar and 300 mg sodium per serving)
Directions
In a large frying pan with a lid, heat the oil over medium-high heat, then sauté/steam onions, garlic, hot pepper and herbs in the oil.
Chop cabbage and collards/kale and add to the pan.
Peel and dice the roasted sweet potato and add to the mixture 5 minutes before done. The total cooking time should be about 45 minutes.
When the mix is tender but not mushy, mix with BBQ meat. Add BBQ sauce and serve over brown rice.
Download a printable version of the Heart-Healthy BBQ with Veggies and Rice recipe (PDF, 220 KB).
What Challenges Does Following the Mediterranean Diet Present?
Following a Mediterranean diet and eating locally on a budget can be difficult.
"If you're low-income, plain and simple, it's hard to do this," Samuel-Hodge said. "[U.S. government programs] give supplemental money for food, but it never reaches the level that allows people to eat in a healthy way. Oftentimes, they have to choose the nonperishable food because it can be stored [easily and] there's very little waste, and that becomes an issue."
Although the higher cost of fresh produce can be challenging, Samuel-Hodge said there is often a way to make it work. Food pantries that stock fresh produce, for example, can help fill the gap for families and individuals when fresh produce is not financially accessible, and health centers can help connect people to such resources.
Funding is also a barrier for health departments and community health centers that want to implement lifestyle programs such as Med-South — particularly in areas that serve high-risk populations or patients who are uninsured or underinsured.
"How do you get [these agencies] to deliver it, to use it as a product or a tool in their health service delivery?" Samuel-Hodge said. "That's always been the challenge, because the question is who will pay for it?"
Overhauling food systems to make eating healthy food more affordable would ultimately help make dietary patterns like the Mediterranean diet more accessible, but there are small steps people can take in the meantime to improve health outcomes through what they eat.
"How do we modify the behaviors in a way that makes people healthier while we wait for those systems to get better?" Samuel-Hodge asked. "It'll take everybody working on this to make it happen — and this program alone won't do it, but it's an important part."
Public Health Lessons Learned From the Lifestyle Program
While studies on the Med-South lifestyle program continue, Samuel-Hodge said her team has already learned lessons that could help public health workers in other regions to implement similar programs that cater to the palates of local communities.
Have community health workers deliver the program to improve accountability and lower cost.
Social interactions are one of the social determinants of health, so when community health workers can build relationships with patients who are trying to make dietary changes and lifestyle changes, it can improve clients' outcomes.
"It allows the patient or the client to see that within health care you can have more than one encounter with somebody who actually cares whether you made the planned behavior changes and helps you to reach your goals. That makes a difference," Samuel-Hodge said.
Provide patient-centered care to understand where clients are starting on their journey.
Counselors working with patients on implementing the Med-South program begin by asking what patients want to change and how they feel most comfortable starting.
"We can facilitate the process where you can make better choices, but the choices are yours," Samuel-Hodge said. "That's a totally different approach from going into an office and somebody telling you what to do."
Connect health centers with additional resources to help facilitate the work.
Part of developing the Med-South program involved cataloging nearby resources related to eating, physical activity, medication assistance and other wellness resources that could help support behavior changes.
"As the clients came in, we asked them, 'What type of help or resources do you think you'll need in order to make this change?'" Samel-Hodge said. "That's where the connection to those resources happened, which is another reason why community health workers are important — they know the community."
Citation for this content: MPH@UNC, the Gillings School of Global Public Health's online MPH program.