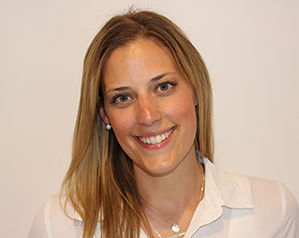 Jenna Nazario: Advocating for Herself and Her Community
"It literally took me 10 years to find the perfect MPH program."
Jenna Nazario graduated from the UNC Gillings School of Global Public Health's online Master of Public Health (MPH) program in August 2020, but her journey to earn her master's degree and build a satisfying career started more than a decade earlier — and was too important to rush.
"I wasn't going to settle for any degree just to say I had it. I very patiently waited for the right one to come along. The online format of the Gillings MPH gave me the opportunity to pursue my dream at one of the best public health schools in the country while still going about my life."
From Dental Hygienist to Health Equity Adviser
Nazario worked for 13 years as a dental hygienist in a general practice, where she saw firsthand the many health disparities facing her patients. Throughout her time there, she knew she wanted to pursue a career in public health to help eliminate these disparities and bridge the gap between oral health and overall health.
As a student in the online MPH Leadership program, Nazario needed a site for her practicum, and she set her sights on the Human Rights Commission for Rockland County, New York. She knew this was a place where she could advocate for the people in her community and make a real difference. First, she just had to persuade the organization.
"The Human Rights Commission had never had an intern before, so I knew I would have to work a little harder to convince them they needed me. I went to every outreach event they had and began networking with the commissioner and the county chief of staff until they basically gave in and let me have the position," she says with a laugh.
During her practicum, she started serving in the new position of health equity adviser — which they had created just for her — and later earned a permanent spot on the Commission.
Ensuring Equitable Access Before and During the COVID-19 Pandemic
Nazario's initial responsibilities on the Human Rights Commission were cultivating new relationships with local community-based and faith-based organizations, helping individuals receive equitable and equal access to resources and promoting community engagement and buy-in.
"It is well known that some people distrust government agencies, so it was very important that the Commission broke down those barriers to help those most in need. Housing and employment discrimination is alive and well, but if you feel like you can't trust your county government, you won't seek help."
When COVID-19 hit, this work became all the more essential.
"What COVID-19 essentially did in the county was shine a brighter light on the many social determinants of health that had caused a disproportionate number of people to become more susceptible and unfortunately succumb to the virus."
Throughout the pandemic, Nazario has been in charge of working through these social determinants that cause increased morbidity and mortality rates while also continuing to prepare and build resilience within communities. She will continue to break down silos to encourage cross-sectional collaboration between departments to better ensure the county is efficiently serving its people.
How MPH@UNC Empowered Nazario to Take Charge
The structure of the UNC Gillings online MPH program is designed for students to first build their knowledge base so they can then apply it during their practicum experience.
Nazario credits her MPH@UNC classes and network with giving her the knowledge and the confidence to make herself heard on a team of experienced, mostly male government officials. She helped steer the conversation about COVID-19 recovery from a heavy focus on reopening the economy to a wider discussion about meeting the physical and emotional needs of the individuals in her community.
"One of the things you learn early on in the MPH@UNC coursework is to ask a lot of questions and to find your voice. I was prepared to become part of a very established political and public health team and speak up when I felt it necessary."
In addition to helping her find her voice, Nazario's core classes also developed her systems and design thinking, challenging her to see the complexity of various issues and explore ways to work collaboratively with multiple stakeholders to achieve her goals.
Finding Balance and Community in the Online MPH Program
When she started the program, it had been more than a decade since Nazario was last in school. It took her some time, she says, to adjust to the demands of a top-tier graduate school while juggling a career and family. However, once she settled into a routine, she found herself more engaged and better able to interact with her peers and the faculty, especially in the live classroom setting.
"MPH@UNC does an incredible job of making sure that even though you are not on campus, you are still getting the full experience of a UNC student. In this program, you don't just learn from the curriculum, you learn from the various lived experiences of your group mates."
Nazario notes that the variety of classroom instructors made for a richer learning experience. In addition to interacting with full-time Gillings faculty, she says, "You will also be introduced to adjunct professors who are brilliant working professionals. They share their experiences in the field while encouraging growth and opportunity for their students."
She admits that the journey wasn't easy — so, was it worth it?
"I can say with confidence that pursuing your degree through MPH@UNC will give you returns at both the micro and macro levels. Your knowledge of public health and your ability to articulate it will be transformed, your critical thinking and understanding of complexity will be enhanced, your ability to work with various personalities and stakeholders will blossom and your confidence to lead will be invigorated."
Looking Toward the Future
What's next for Nazario? As we say at the UNC Gillings School, we're on it — and so is she.
"I have always considered my career like a PDSA (Plan-Do-Study-Act). As I continue to learn and grow from my experiences, I hope to keep moving up to bigger platforms to help more people."
For Nazario, that might mean moving to the state or federal level, or perhaps joining a large nonprofit organization. Whatever the future holds, her five-year plan centers on continuing to sound the alarm about public health issues and being a force for more effective and sustainable solutions.
"I made a declaration — and my faculty mentor Dr. Upshaw promised to hold me to it — that I would one day make my way to Capitol Hill. And maybe I'll earn a Doctor of Public Health degree somewhere along the way."